India Chem 2021: A clear policy vital for growth of specialty chemicals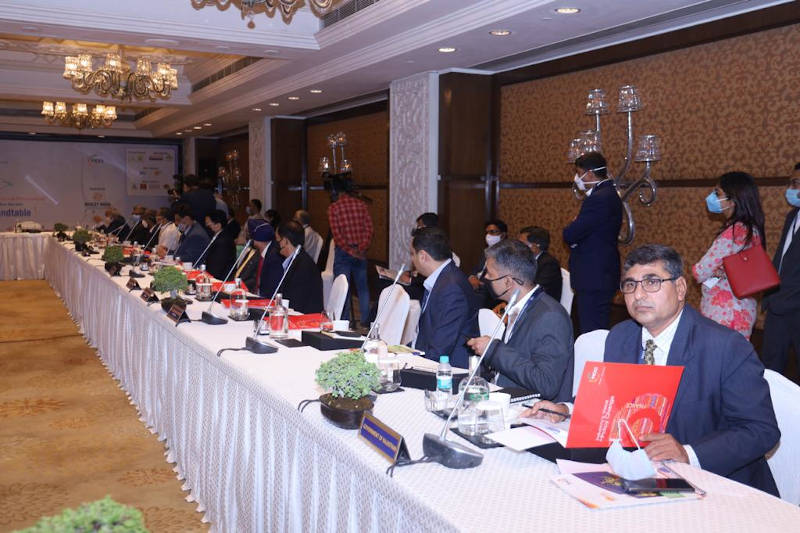 The top chemical industry leaders speaking at 'India Chem 2021' called for creating opportunities to attract investments in various sub-segments of specialty chemicals, thereby reducing the dependence on imports. The session focused on specialty chemicals witnessed discussions on the various key issues including investment facilitation and incentivization, the expedition of clearance and approvals, implementation of mandatory standards, and development of downstream industries.
The 11th Biennial International Exhibition & Conference is being jointly organized by the Department of Chemicals and Petrochemicals, and the Federation of Indian Chambers of Commerce and Industry (FICCI) from March 17-19, 2021 at New Delhi.

Vinati Saraf, MD & CEO, Vinati Organics believes that public-private partnerships are necessary for pushing the R&D. "The onus is on the government to help in building collaborations. There is no dearth of scientific talent but it needs to be connected to others in the ecosystem. The CSR in R&D must be mandatory." Saraf terms the scalability as a challenge due to lack of special zones and other infrastructure besides lack of investment and too much risk in terms of capital that acts as hampers of growth.
From market to consumers, we have believed in consumer satisfaction. Our strong process development has come from the commitment to creating applications for customers, says U Shekhar, Chairman, Galaxy Surfactants whose company has applied for 92 patents and has been already granted 72. Shekhar believes that much remains to be done in terms of non-hazardous processes that are eco-friendly. "The green process chemistry requires molecules that establish benefits for consumers. We require consistency in policy and trust with the government. The decision making at the ground level is very important. On the industry's part, we need zero discharge, ethical business practices which I am sure is happening over the period of time."


As per Siddharth Sikchi, Director, Clean Science & Technology, high-interest rates of fund providers and unclear government policies are a big hurdle. "We started the company in 2007 and faced common issues as experienced by the industry. However, we kept going and overcome issues. We have developed processes globally. We have a strong catalysis team for the right chemical transformation. For us, R&D is very important. We focus more on chemistry and supply to all segments and, therefore, aren't restricted to any one particular area. We work on building fewer plants that are of global standards rather than multiple ones."
Sharing his perspective on the ingredients of success, Rajen Mariwala, MD, Eternis Fine Chemicals says, "We are focused on building scale. Having started with a single product 25 years ago, we have over the last ten years focus on R&D and de-bottlenecked our plants. We offer fewer products but with quality. We spent a lot of time with our customers. Acquiring a market platform was helpful to us."


Shohab Rais, COO, Indian Chemical Business, Tata Chemicals says "Apart from scale and reliability of supply chain and operations, there will be a continuous requirement of alternatives at various level of operations. For the scale-up, the right technologies and skills will have to be acquired. In case of R&D, continuous innovation to develop new molecules is the only way forward."
Calling for the diversification of the workforce to create true multi-nationals, Adnan Ahmed, Head of Country Cluster, Clariant points out that the workforce in Indian MNCs like his are mostly natives and hardly any expats. "We need to increase our horizons in terms of knowledge sharing and talent acquisition." Ahmed added, "We are moving in the right direction. We need a clear industrial policy and the Department of Chemicals and Pharmaceuticals has come up with a good one but it needs to be implemented soon. We need to work with the government and help in building sustainability."


Calling R&D a must for the next phase of growth, Deepak C Mehta, Chairman, FICCI National Chemical Committee and CMD, Deepak Nitrite stated that the value chains have to seen growing in the same way. "More opportunities of the consortium to co-produce and share the expertise exist and it needs to be ensured that the intermediate is competitively available. Upstream, middle stream and downstream is addressed. We need chemical clusters where byproducts of one company are used by the others."
Optimistic about the future growth of the chemical industry and especially specialty chemicals, Yogendra Tripathi, Secretary, Department of Chemicals & Petrochemicals, opined, "The focused attention by the government including PLI schemes will certainly show results. 11 to 12 percent growth expected in the specialty chemical sector. In 3-4 years we will reach 15% per annum. Over a period of time, infrastructure has improved and some of the things have been sorted out. We will work together to address the issues and difficulties. I can only assure you that we can help in bridging pain points."
Tripathi also outlined the need for a homegrown model of research and scaling up. "We need a mechanism of creating a molecule, customizing and converting it into the customer-driven product. In the next decade, at least 4-5 products must be ready. We have no dearth of talent and expertise, rather industry players with knowledge who I am sure will make good use of existing opportunities," he concluded.