PSUs stalwarts emphasize on reducing import dependency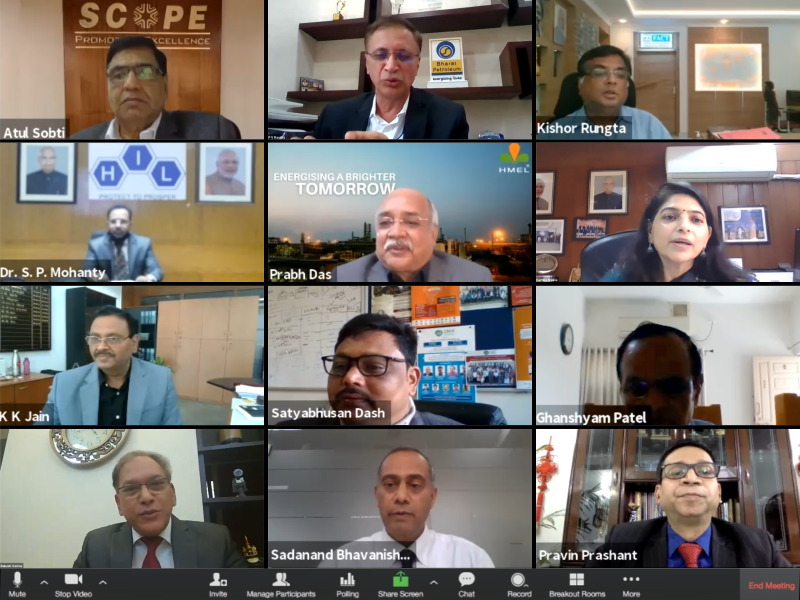 Experts of the PSUs (Public Sector Undertakings) are of the view that there is a need of a paradigm shift in the way the chemical industry has been operating to propel its growth and create a win-win situation for the Indian chemical industry while discussing during the e-conference titled " Role of PSUs in Making Chemical Industry Aatma Nirbhar" organized by Indian Chemical News.
Moderated by Pravin Prashant, Editor, Indian Chemical News, the speakers included: Atul Sobti, Director General, Standing Conference of Public Enterprises (SCOPE); PV Ravitej, Executive Director (Refineries), Bharat Petroleum Corporation Limited (BPCL); K.K. Jain, Executive Director, Centre for High Technology a dedicated technology cell of Ministry of Petroleum & Natural Gas (MOP&NG); S.P. Mohanty, CMD, HIL; Prabh Das, MD & CEO, HPCL - Mittal Energy Limited (HMEL); Vartika Shukla, Director – Technical, Engineers India Limited (EIL); Kishor Rungta, CMD, Fertilisers and Chemicals Travancore Limited (FACT); Ghanshyam Patel, Former ED (Operations),
Gujarat State Fertilizers & Chemicals Limited (GSFC); Rakesh Verma, CEO & ED, Simon India; Satyabhusan Dash, Professor - Marketing, IIM Lucknow; and Sadanand Bhavanishankar, MD, Elliott Ebara Turbomachinery India.
Speaking on the contribution of PSUs to the Indian economy, Sobti said, "Public sector has been a torch bearer of economic growth. Over 25 lakh crores turnover and 1.5 lakh crores in profits, the sector makes a contribution of 13% to GDP by adding Rs. 3.6 lakh crores to Indian exchequer. During COVID-19, they have outshined the private sector."
Ravitej opined, "There is a need for modernization of technology and creating a manufacturing hub for catalysts but we must not duplicate or reinvent the wheel. We have the capacity to produce world class processors and catalysts."
Jain said, "Oil imports are worth US $128 billion which points towards overall 25% of total import. Refineries have 250 million metric tonnes refining capacity but our crude oil import dependency is 89%. Since figures are mind boggling, serious efforts are needed to reduce the import dependency. There is a need to increase gas production and focus on biofuels and renewables."
Refinery process improvements are necessary to cut down on the current 10% to 11% energy loss and converting black oil into white oil is a long-term option, Jain added.
Highlighting the rapid shift in the policy, Mohanty said, "Earlier everybody was looking outward but now we are looking inward. Almost 60% of the value chain was dependent on import but it is changing now. However, production incentives are yet to come for chemical and petrochemicals. Regulatory and environmental clearances are now forthcoming to encourage industrialists. Backward integration is important and so is looking at the value chain in entirety." He pointed out that from being an importer of certain agro-chemicals, India has become an exporter.
"Government has given priority to PSUs during COVID-19 so as to increase their capacity. For example, India supplied Malathion to Iran and Sudan for tackling locust attack. Agriculture sector in India has survived during the pandemic thanks to agro-chemicals. 29% of food production in the country would have got affected, if the agro-chemicals would haven't been produced in bulk here," added Mohanty.
Speaking on the issue of indigenisation within chemicals and allied sectors, Vartika Shukla, Director - Technical, Engineers India Limited (EIL), stressed on the need for a business model where technology providers work in tandem with Indian industry's goals.
"There is a need for long term support to the product development in India and for globally. The focus has to be on the increase in the availability of building blocks. Sustainable mobility is witnessing the change and interventions are helping in transformation," commented Shukla.
"Capitalization of investments will help in growth of the industry besides the cash flow issues with contractors and implementation part too must not be a hindrance to overall goals. This issue should be viewed holistically and with fairness in terms of contracting. There is a need for hand holding of small players so as to create an ecosystem," added Shukla.
Rungta stated that Indian PSUs are projected to produce 5 lakh tonnes of chemicals by 2022-23. He shared his company's plans to establish the Caprolactam plant by January - February, 2021. The Caprolactam plant is projected to give additional turnover of Rs. 500 crores with production of 50,000 metric tonnes. "With this expansion, we are insulating ourselves from future risks," added Rungta.
Das feels that most of the contracts are one sided so we must have balanced contracts and substantial implementation of fair contracting. "We are the third largest exporters of chemicals with production of 65 million tonnes worth US $36 billion. We must remember that being self-reliant is not just about self-sustainability but about being global. We are optimistic about doubling the current figures by 2030."
Das further added, "Integrating refineries with petrochemicals is one of trends besides the growth of the polymer industry. Many EPC companies are looking at the expansion. Right now, 85% solutions are available in India."
Verma feels that the key to the self-reliant industry is to focus on all round development including skills and value chain. "We need to work on technological competencies and will promote competition. Technical and qualification criteria besides will help in increasing quality. Need to consider funding of smaller contractors and there will be no quality issues, plants will be available on time. Returns on investments will be higher," commented Verma.
Sharing his views over modernization of the fertilizer industry, Patel, said, "Reduction in energy consumption is directly achieved by revamping as well as modernization of the existing plants. The government has taken up revamping old FCI plants and revamping schemes are also being made available. Modernization of plants is being taken up by all industries including cooperative, private and PSUs. Our company, in particular, is using Russian technology to improve the energy efficiency of urea plants despite a small investment. In seven of our plants, we have achieved a reduction of steam consumption which indirectly saves natural gas in terms of energy consumption."
"By the year 2023-24, we will not only become self-reliant but will be a surplus fertilizer country. The Finance Ministry has predicted an increase of 17.8% in fertilizer production in the year 2021 itself. For a country like India that has got so much food requirement, the fertilizer industry will play a crucial role to achieve food production goals," added Patel.
Dash, Professor – Marketing, IIM Lucknow talked about how focus is shifting from mere selling to understanding the needs of customers.
"The value-added services to consumers make them loyal. Many PSUs have started tapping opportunities and harnessing technologies to co-create value for customers. I also believe that academia-industry collaboration will help in better understanding of customer relationship management," added Dash.
Bhavanishankar highlighted the fact that PSUs directly support three key pillars of Aatma Nirbhar or self-reliance - Economy, Infrastructure and Technology-Driven System.
He further stated that chemical and petrochemical PSUs are the driving engines to provide essential commodities, medicines, fuel, fertilizers, energy and other building blocks.
While sharing a few examples of how his company is building capacities to cater to upcoming larger projects in refineries and petrochemicals, Bhavanishankar said, "From sourcing to purchase and inspection to supply, we have a full fledged team for providing auxiliaries for large machines in India. We are in the process of increasing our design and engineering capacities for the future when we get into project management."
Going forward, Sobti listed out three major suggestions. Firstly, he called for an increase in the current spending on R&D in chemicals from current 2-3% of GDP to 3-4%. Secondly, he recommended the synergy and collaboration between public and private industry as well as academia through creation of a forum to brainstorm and share views for business efforts. Thirdly, he talked about digitizing and automation of processes in the chemical industry.
"Road may be filled with hurdles but partnership between stakeholders can help to achieve a lot of goals," concluded Sobti.
The e-conference was organized with support from Elliot Ebara Turbomachinery India and Simon India.