India Chem 2021: ICN launches its annual compendium, 'Chemical Industry Outlook'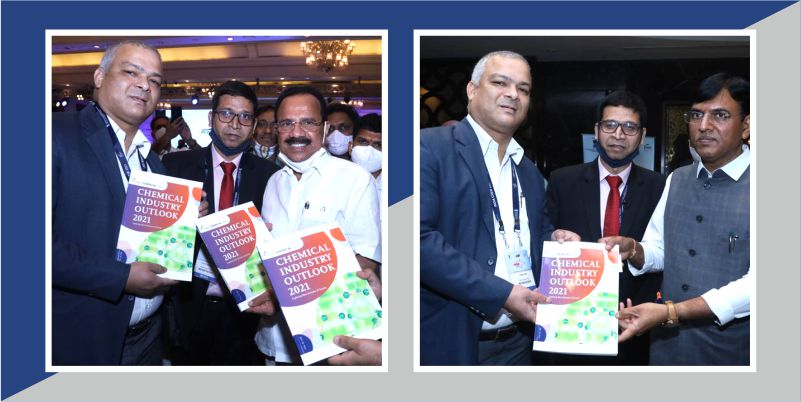 Indian Chemical News (ICN) has launched an annual handbook called "Chemical Industry Outlook", a compendium in exploring new horizons of growth to give industry CXOs 360 degree view about global trends, India trends, market sizing with respect to different segments, and future industry outlook.

The annual compendium, 'Chemical Industry Outlook 2021' was released at India Chem 2021, the largest event of the chemicals and petrochemicals industry to be held from March 17-19, 2021. ICN is the official media partner for the 11th Biennial International Exhibition & Conference being jointly organized by the Department of Chemicals and Petrochemicals, Government of India and Federation of Indian Chambers of Commerce and Industry (FICCI) in a hybrid model where the conference is being physically conducted at Hotel Taj Palace, New Delhi and exhibition conducted on FICCI Bike Platform virtually.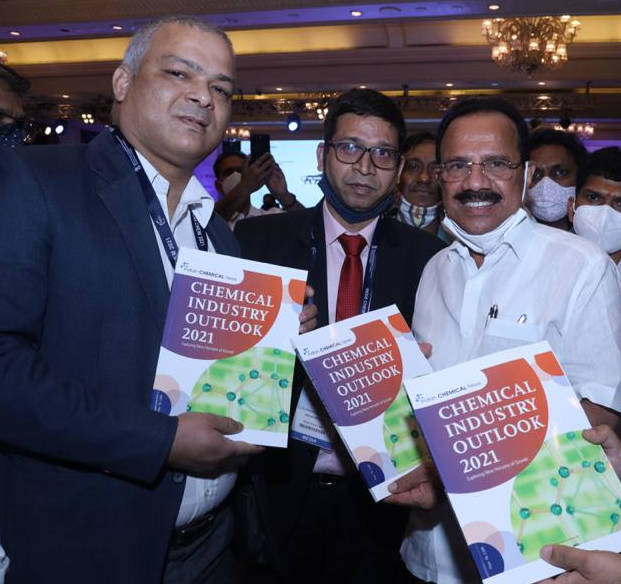 The ICN team presented the compendium to the Union Minister of Chemicals and Fertilizers D.V. Sadananda Gowda; Union Minister of State for Chemical and Fertilizers, Mansukh L Mandaviya; and Secretary, Department of Chemicals & Petrochemicals, Yogendra Tripathi, and a host of other dignitaries including industry leaders and bureaucrats among others.

The "Chemical Industry Outlook 2021" covers four verticals - Chemicals, Petrochemicals, Pharmaceuticals, and Digitalization. Each vertical has three sub segments – Overview, Column, and Interview. The overview provides key recommendations of each sector. The compendium also has guest column from senior industry experts from diverse background to make it more complete in nature. Guest column has been taken from select industry leaders in the industry, academia, industry associations, R&D Organizations and others to give it a 360 degree view. The CXO interviews give an update on what is happening in respective industries and how these industries are gearing up for India opportunity.

The compendium that was well received by the delegates also has a section called InFocus which focuses on emerging trends in the chemicals, petrochemicals, and pharmaceuticals. The topics covered are: Green Chemistry, Sustainability, Responsible Care, Start-Ups, Hydrogen, Electric Vehicle (EV) and Gas.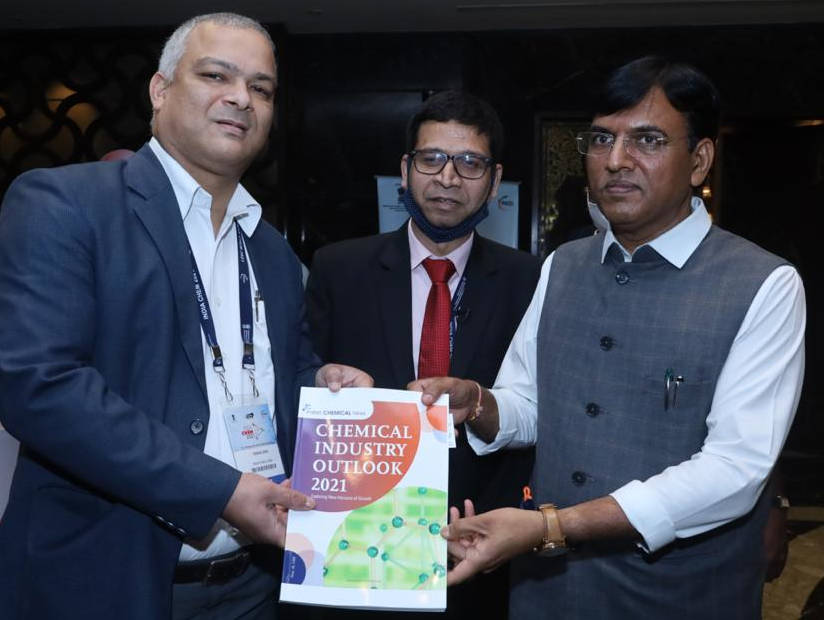 The compendium focuses on innovation, better supply chain management, increasing domestic demand, enhancing global competitiveness, green technologies, leveraging exports, disaster management, and others. All these topics will make India globally competitive in the long run if we proceed in a collaborative manner with the right intent. It aims to spread awareness on the trends in India and globally help companies position themselves appropriately in the global market.

For reaching US $300 billion number, the Indian chemical industry needs to accelerate its production capacity, increase its focus and budget on R&D, needs financial support from the government, faster environment clearances from the ministry and collaborate with foreign counterparts. The close bonding with the government, research & academic institutions, and chemical industries will also act as a catalyst and provide momentum to the India growth story.
Click here to view the e-version of ICN Compendium "Chemical Industry Outlook"
Share and Enjoy !