India Chem 2021: India set to emerge as a hub of chemical and petrochemical industry globally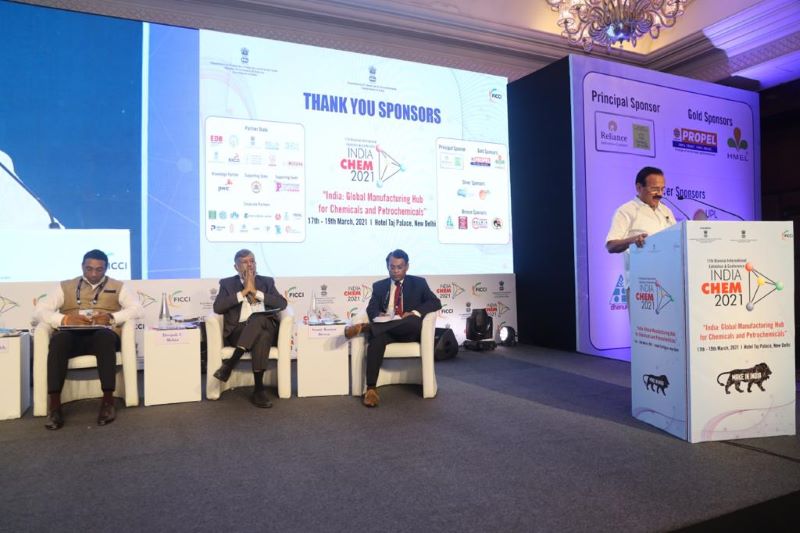 Union Minister of Chemicals and Fertilizers D.V. Sadananda Gowda inaugurated the 11th Edition of India Chem 2021 in New Delhi with the theme "India: Global Manufacturing hub for chemicals and petrochemicals". He stated that the Indian chemicals and petrochemicals industry is growing to new heights, and informed that an investment of Rs 8 lakh crore is anticipated in the sector by 2025.
During his speech, Sadananda Gowda also appreciated that the Department of Chemicals and Fertilizers and Federation of Indian Chambers of Commerce and Industry (FICCI) for organizing the event. He added that the growth in the chemical and petrochemicals industry is also contributing to the Prime Minister's vision of Atmanirbhar Bharat. He informed that Government has launched 12 PLI schemes for different sectors which will directly or indirectly benefit the chemicals sector. He also stated that the Government is prioritizing the sector and in the Budget 2021-21, the import duty on Naphtha has been reduced from 4.0% to 2.5%.
India is emerging as one of the fastest-growing economies in the world, stated Yogendra Tripathi, Secretary, Department of Chemicals & Petrochemicals, Ministry of Chemicals & Fertilizers. "The vision of India Chem-2021 is to seize the opportunity to establish India as a leading chemicals and petrochemicals hub, he added. He highlighted the various factors such as the development of industrial corridors, commitments in National Infrastructure Pipeline, competitive wages rates give India a competitive advantage."
Tripathi further highlighted the fact that there is ample opportunity across the whole value chain, specifically PVC, methanol, and polycarbonate. "There is a potential US$ 17.1 billion opportunities in the petrochemicals sector. Under consideration is US$ 87.4 billion. It is the right time to invest in India. The state can play an important role in providing investments and creating an ecosystem besides providing incubation."
Sharing the details of the event, Samir Kumar Biswas, Additional Secretary, Department of Chemicals and Petrochemicals, mentioned that the 11th edition of IndiaChem2021 in its physical as well as digital format witnesses 24 participating countries and the presence of 100 plus exhibitors, 500 plus delegates, and 600 visitors.
Emphasizing that Odisha is emerging as an investment destination, Capt Dibya Sankar Mishra, Minister of Industries, MSME, Energy & Home (MoS), Govt of Odisha said that the state has an ecosystem where the investor will be benefitted if the investments are made in a right manner. "Out of the total investments that came to India into the petrochemicals sector, 18% belongs to Odisha. To facilitate the companies to set up and do business in the state, Odisha has undertaken several initiatives in terms of implementation of the EoDB Framework. The state is coming out with a new policy that will be best in the country. Paradip is quickly emerging as a Petrochemical & Chemical hub. Under a new initiative, a plastic park is coming up there. We are increasing capacity from 227 MMTPA to 320 MMTPA."
As per Mekapati Goutam Reddy, Minister for Industries, Investment, Infrastructure, Commerce & IT, Govt of Andhra Pradesh, his state is the most preferred destination for chemicals and petrochemicals industries in India. Minister also appreciated the Government of India for taking effective steps to promote the petrochemical industry. "In order to bring 80-85% self-sufficiency in the petrochemical sector, we need to bring in extra capacity 4 times more than the current one, i.e. 6 MTDA," he added.
India has strong potential in the chemical sector, stated Prabh Das, Chairman, FICCI Petrochemicals Committee and MD, HMEL India while adding, "Investment opportunity is huge in the expected $300 billion sector with 8 lakh crore worth investments in the pipeline."
Outlining the way forward, Bhavesh V Patel, CEO and Chairman, Lyondell Basell Industries stated, "We are missing 80-120 billion as we don't value plastics. We must continue innovating and re-imagining ESG moment in our approach to the circular economy."
During the course of the event, a global CEOs roundtable also took place wherein various investment opportunities available in India were discussed.
Share and Enjoy !