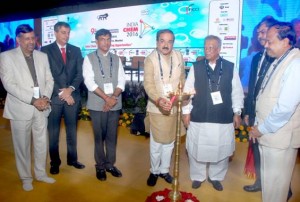 Union Minister for Chemicals & Fertilizers Ananth Kumar today asserted that the Indian chemical industry is expected to grow at 9% p.a. to become a US $ 226 bn sector, driven by growth in end-use industries and government initiatives. The present size of the industry is US $ 147 bn.
Speaking at the inauguration of the 9th edition of biennial IndiaChem International Exhibition and Conference in Mumbai today, the Minister observed that the current PCPIR (Petroleum, Chemicals & Petrochemicals Investment Regions) Policy needs fine tuning to make it more pragmatic and practical. He requested the industry leaders and experts gathered at IndiaChem to offer suggestions over the next one month to make the policy more vibrant.
Kumar said India's long coastline, large refining capacity and a satisfactory R&D capacity are the strengths for the growth of the chemical industry, but observed that ease of doing business still needs to improve further. He said imports from China and South East Asia continue to dominate, as raw material cost and availability pose challenges for domestic businesses.
He asserted that 'Make In India' campaign is the key driver for the chemical industry as there exist opportunity for import substitution in many petrochemical derivatives. He further said that implementation of GST would bring manufacturing costs down, thus making Indian products competitive.
The Minister also observed that the Indian chemical industry, which employs nearly 2 million people, requires 8.5 lakh skilled technicians. He lamented that current infrastructure to impart skill training is inadequate, as a result most of the training is taking place on site.
He said that in a bid address the issue of skill development, the government is planning to set up Central Institutes of Chemical Engineering & Technology at different locations where the chemical industry has significant presence. The Minister announced that the first such institute will come up in Mumbai.
Minister of State for Chemicals & Petrochemicals Mansukhbhai Mandaviya, Secretary, Chemicals & Petrochemicals Mr. Anuj Kumar Bishnoi, Bangladesh Minister for Industries, Mr. Amir Hossain Amu, leaders of chemical industry were present on the occasion.