Adoption of digital tools to push sustainability of businesses in chemical industry a must for Industry 4.0: Experts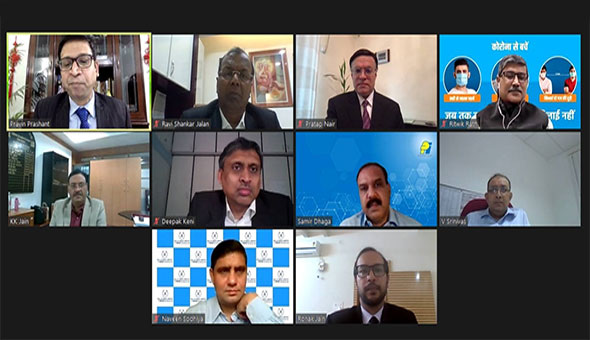 The leading lights of the chemical industry agreed that digital transformation is necessary to increase the sustainability of businesses and reduction in overall carbon footprints at an E-Conference organized by Indian Chemical News on "Achieving sustainability via digital transformation".

Most of the experts also shared a common view that the COVID-19 pandemic has triggered the sudden buzz about digital technologies and it will also continue in future.

Sharing his thoughts on increasing productivity through the implementation of digital initiatives, K. K. Jain, Executive Director, Centre for High Technology, Ministry of Petroleum & Natural Gas said, "Decades ago, most of the processes were manual and it took a lot of convincing for adoption of automation tools. Over a period of time, digital-enabled processes have made their way, making it possible for us to control many refineries remotely. Going forward, the oil industry is passing through a transitional phase where the focus is shifting towards the reduction of carbon and water footprint. Maintaining the profitability of oil refineries is another big challenge as the margins are thin. Therefore, digitalization including Artificial Intelligence (AI) and Big Data will play an important role in enhancing productivity."

As per Ravi Shankar Jalan, Managing Director, GHCL, sustainability has played a key role in the survival and success of any business.

"In our 30 years of existence in the chemical business, we need to look at all stakeholders. We have to make sure that their wellbeing is taken care of as even customers are now demanding sustainability. We have an aggressive plan of making plants IoT-based. We are looking at a complete plan to ensure operations remotely. Employee experience is important and most of the things if done online helps in seamless operations. Digitization is need of the hour otherwise we are going to vanish," commented Jalan.

Pointing towards massive evolution within digital technologies, V. Srinivas, President - IT, The Sanmar Group said, "Customer experience, productivity, efficiency have improved a lot due to digital interventions. We have come a long way since 2000 when ERP technology was used. We now have Predictive Analytics, Blockchain, Digital Twins, Shop Floor Automation and many more options available. At the same time, we need right bandwidth to use these technologies. From using 2G, we have now graduated to using 4G now but connectivity still remains a challenge. There is a talk of connectivity through satellites, electronic invoices etc. All these require digital transformation but it is important to have streamline processing and cultural transformation as well. We need common data models that work across businesses. Especially in manufacturing, there is a big need for standard of interoperability and that is missing in many of these technologies."

Naveen Sodhiya, Head - IT & Digital, Rallis India Limited believes that sustainability is no longer merely compliance but a differentiator.

He says, "Sustainability is a value creator and we practice it at every plant. We are using the digitalization technologies such as predictive analytics to improvise the products based on inputs. There are innovative ways to reduce footprints at the operational level such as automation to improve productivity. Being a seed company, we have thousands of acres of farm area to take care of, and here comes the role of satellite backed technology that helps us to monitor the various parameters. We leverage IT for many purposes and, therefore, there has been a shift from Datacenter to cloud and SAAS based platforms. We have looked at holistic optimization."

Samir Dhaga, President and CIO, PI Industries Limited says, "With a layer of Machine Learning and Artificial Intelligence (AI), there is scope to improve chemical batches through predictive analysis. There are agitators, reactors, freezers and ECS systems that generate data on various temperatures and other parameters. The relationship between data points which otherwise is not possible manually can be predicted with respect to the yield, batch time, cycle time and quality. We have created a Golden Batch that has statistical quality control to manage its ideal process. In this batch, energy consumption goes down with improvisations in batch time and cycle time, consuming less electricity and less carbon footprint."


Deepak Keni, EVP - Special Projects & Enablers, Deepak Fertilisers And Petrochemicals Corporation Limited spoke about the operational challenges and gestation period required for the implementation of projects.

"It takes three months to one year for implementation and then challenges of sustainability which includes the 10-20% energy conservation in a year or two. Saving and sustainability will happen only when the predictive alerts about instrumentation failure are timely and correct. As a change management, we need to accommodate the resistance by many engineers and therefore, need to have peaceful co-existence of digital twins and manual processes," added Keni.

Ritwik Rath, Chief General Manager - IS Strategy, HPCL stressed the need for looking at the business issues holistically.

"We quickly get enamored with new technology solutions and try to force-feed. But before we look for solutions, we need to understand the problems well. Since there is a huge amount of data, we need to explore ways to synergize it and find a common value. At the same time, while the digital transformation holds the key to improving profitability, there is also a need to learn boundaries between manual and digital," added Rath.

The well attended E-Conference was moderated by Pravin Prashant, Editor, Indian Chemical News and was supported by AVEVA and Ingenero Technologies (India) Limited.


Share and Enjoy !