Chemical Secretary Arun Baroka to address AgroChem Summit 2023 on Feb. 24, 2023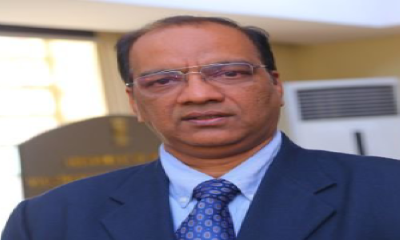 Arun Baroka, Secretary, Department of Chemicals and Petrochemicals, Ministry of Chemicals and Fertilizers, Government of India will address the inaugural edition of AgroChem Summit 2023 on February 24, 2023 at The Park Hotel in New Delhi.
The main theme of the Summit is "Making India A Manufacturing Hub" and is organized by Indian Chemical News (ICN), the most credible online media platform for the Chemicals, Petrochemicals, and Energy sector.
Please register for the Summit by clicking on the link (https://www.indianchemicalnews.com/agrochem-summit-2023/).
The Speakers confirmed for the AgroChem Summit 2023 include: R. G. Agarwal, Chairman, Dhanuka Agritech Ltd.; Raju Kapoor, Director - Public & Industry Affairs, FMC India; Dr. Vishal Choudhary, Deputy Industrial Advisor, DCPC, Ministry of Chemicals & Fertilizers; S. K. Chaudhary, Founder & Director, Safex Group; Dr. Kalyan Goswami, Director General, Agro Chem Federation of India (ACFI); Harish Mehta, Senior Advisor, Crop Care Federation of India (CCFI); Natwarlal M. Patel, Managing Director, Meghmani Organics Ltd.; Simon Thorsten Wiebusch, Executive Director, Bayer CropScience Ltd.; Dr. Srinivas Kantevari, Senior Principal Scientist, CSIR IICT; Pritee Panicker, Manager - Regulatory Affairs, Auxilife Scientific Services Pvt. Ltd.; and others.
The Summit will focus on: Policy Support for Growth of Indian Agrochemicals; Enabling Regulatory Ecosystem for the Growth of Agrochemicals Industries; Role of Drones in Agrochemicals Sector; Collaborative Approach to Realistic Agrochemicals Potential; Agrochemicals 2030: The Future Perfect.
India has the potential to become "The Global Manufacturing Hub" for Agrochemicals due to a number of favourable factors such as low manufacturing cost driven by availability of labor and tax benefits, technically trained manpower, under utilised production capacity, seasonal domestic demand, and low usage etc. There is a huge domestic market for growth and equally promising are the opportunities in the Agrochemicals export space.
The Summit aims to bring all stakeholders of the agrochemicals sector under one platform to brainstorm on the growth opportunities, safe and judicious use of agrochemicals by farmers, and current issues to draw a roadmap for the future direction of the Indian agrochemicals sector.
The summit is supported by Gold Partners - Godrej Agrovet, Dassault Systèmes Solize, Carbanio, and Auxilife (a unit of GPC), and Associate Partner - Resistotech. The event is supported by Industry Association Partners - PMFAI (Pesticides Manufacturers & Formulators Association of India), Croplife India, ACFI (Agro Chem Federation of India), and CCFI (Crop Care Federation of India).
Share and Enjoy !