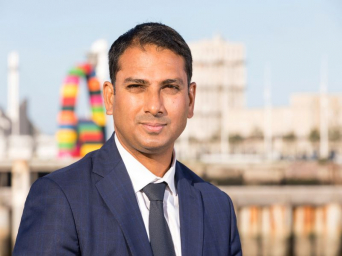 Haropa Port is the fourth largest North European Port. What's your plan for 2023?
Eighteen months after its creation (merger of three ports - Le Havre, Rouen, and Paris) and following a historic year in which three million TEU was surpassed, Haropa Port has consolidated its positioning in the group of Northern Range Port. In 2022, Haropa Port was one of the only ports in Europe with a progression of container traffic. In addition to the remarkable resistance shown by traffic levels, key milestones have been achieved, foremost among them is the announcement by MSC TiL last July that they would be investing €700 million till 2028 to triple container volume, making us a major port of entry for France and Europe and giving us the means to develop river-based services to the Paris basin.
What makes Haropa Port different? Would you talk about the Green Logistics Corridor?
The model of Haropa Port is based on its ability to provide a unique green corridor to connect the maritime ports of Le Havre and Rouen to the consumption region of Paris and to NW Europe. As an efficient alternative to a very efficient motorway network, the Seine River and the railway system are the backbone of Haropa Port. Our port system includes more than 25 terminals all along the Seine River. It means 25 different places along the Seine River to load and unload containers.
In 2022, rail and river transport on the Seine Axis were increasingly seen as an alternative to road for goods import/export, the modal shares of rail and river expanded from 12% to 13.3% for containers exiting Le Havre. Operators have completely understood the complementarity of maritime terminals and inland terminals. Some goods need to be handled in the maritime port of Le Havre to be transferred by truck in a few hours to Paris. Other goods could be transferred by rail or inland waterways to Rouen or to Paris and/or to various other industrial hubs in NW Europe within a couple of days without any kind of congestion, taking advantage of the possibilities of massification offered by rail and river transport.
Moreover, Haropa port displays a smart cargo community system completely connected to its port community system to follow the flow of goods from vessels arrival to the final delivery.
At 110 million tons/year, Haropa Port is a global heavyweight. How are you planning to increase traffic in the next five years?
Haropa Port is definitely a multi sector port combining container, dry bulk, liquid bulk and grain traffic. Haropa Port includes maritime and inland waterway traffic, which makes our model particularly resilient in a context of crisis. We continue to invest on our port infrastructure to extend our capacity to accommodate more traffic. In 2022, we have finalised the maritime works to add 700m of quays which will complete the existing 3500m of quays in Port 2000, our main container terminals area.
In 2023, to create a specific access for INW barges, we will fulfil the story of Port 2000 started 20 years ago to have reference port terminals able to welcome the largest vessels in the word, safely, efficiently, and in deep sea conditions. These nautical conditions are unique in the Northern EU.
In 2023, we will also start the civil work to create a new port of 100 ha on the Seine River 50 km from Paris. This project is unique in port history as we have not created a new port in the last 50 years. This aims at fostering the transport by Inland waterways for construction and recycling activities.
How has the Russia-Ukraine war affected the business dynamics? How did you tackle the challenges arising out of the geo-political situation?
The Russia-Ukraine war has led to major geopolitical disruption between Russia and Europe, in addition to fears of an energy crisis. Also, the last summer's drought notably affected certain types of agricultural production in France and the rest of the world. Nevertheless, despite these difficulties for Haropa Port, the past year was a year for a change of scale and high resistance to turbulence and defined resilience. In particular, for the export of Cereals, 2022 was one of the best years of the decade with 8.6 metric tonnes of grain shipped this year (+12%). It was definitely a good trading year (quantity/quality). Due to efficient port logistics, our producers were among the first sellers to propose grains to the market. We were able to sell our shipments to Israel, Tunisia, Saudi Arabia, and Iran - destinations rarely served by France in recent years. These grain volumes were additional to substantial purchases by Algeria, Egypt, West Africa, countries which have suffered from an intense drought this year.
How are you gearing up towards making Haropa Port a Green Energy hub?
Haropa Port aims to be a Green hub by:
* Development of low-carbon port/industrial zones; Production of green energy from biowaste;
* Deployment of a network of CNG stations; and New Industrial Cluster will be implemented in the coming years.
* Development of low-carbon port/industrial zones: An MoU has been signed on the Seine River by chemical groups such as Total, ExxonMobil, Air Liquide, Yara, and Borealis to lead a major Carbon Capture Utilisation and Storage (CCUS) project. Its first step aims at reducing carbon emission by 1.5 million tons/year by 2030. In the context of this CCUS project, we also aim to put in place one of the first CO2 export hubs in Europe.
* Production of green energy from biowaste: PAPREC, a major waste management company, will be operating the future methanisation plant for Greater Paris household biowaste at the port of Gennevilliers.
* Deployment of a network of CNG stations: A new generation of multi-energy service stations will be implemented in our main platforms in the Paris Région.
* At the Port-Jérôme port/industrial zone (40 km from Le Havre Port) a new industrial cluster will be implemented in the coming years – "Plastic Valley" – dedicated to recycling and producing latest-generation renewable plastic is currently being organised, most notably around the projects of the chemical groups Eastman and Futerro. The site will also see production of renewable hydrogen with Air Liquide's Normand'Hy Project which has an unprecedented capacity of 200 MW to be operational by 2025.
* Haropa Port will be OPS ready by 2028 for container and cruise vessels – two years before the European legislation commitments.
Haropa Port has announced a Euro 700 million investment at Le Havre. What's the update on this front?
Terminal Investment Limited (TiL), the ports division of leading liner Mediterranean Shipping Co (MSC), has taken total control of the TPO/TNMSC container terminals at Le Havre, and announced in July 20222 a €700 million investment program. This program will ensure the terminal hub can handle the largest boxships afloat. This ambition promises to shake up the port hierarchy in the competitive group of Northern Range European Ports system and help Le Havre become an even more significant gateway point for the French cargo market, and beyond. TiL/MSC is going on this program by installing new gantry cranes and also extending the terminal's storage capacity with the installation of fleet services at six berths. The new gantries will be electrically powered and the port will provide shore power for ships.
Haropa port is also focusing on the Digital Transformation Project. What's the update on this front?
Haropa Port is totally focused on its path breaking digital initiatives and innovations in the technology domains for more transparency, greater facilitation, and ecological transition. Haropa Port is the first French port to switch to 5G, making changes in the Port Community System aimed at harmonising the digital tools for port call management along the Seine Axis and preparing for the port one-stop-shop S-WiNG, and S)ONE 100% digital and paperless procedures and solutions, the creation of the Easyport software program for facilitation of port goods throughput, a plan for digital twinning with the port of Rotterdam as part of the MAGPIE project in order to consolidate the port's environmental competence, AI placed at the service of port call predictions to reduce greenhouse gas emissions, among others.
By means of these many innovations, Haropa Port is setting out to make gains in efficiency, rapidity, and flexibility, to provide its customers with greater transparency and to foster the ecological transition.
Haropa Port does have plans to receive the first green hydrogen molecules on its platform. If yes by when and how?
In addition to projects to produce green H2, like the Air Liquide Normand'Hy project with an unprecedented capacity of 200 MW to produce 28,000t of H2/year by 2026, Haropa Port is also working on its capacity to import H2, by mobilizing its storage facilities. The EU commission foresees that the energy mix in Europe will rely on production and on import of green H2 to answer the needs by 2030.
How is Haropa Port helping in enhancing the trade between India and Europe? What is your future outlook?
The global trade between Haropa Ports and the main Indian Ports continues to grow with a strong growth of over 7-8% per year on imported traffic from India to France. We already have a strong position to import textiles, clothing, vehicles, transport equipment, and chemical products. We believe there are many opportunities to develop sectors like pharma, as Haropa Port is in the middle of a Pharmaceutical Valley on the Seine River. Our ambition is also to further develop reefer traffic as we are the main Port for reefer products in France: we also have the facilities and we have developed a strong know-how to manage this kind of traffic.
Key benefits for Indian chemicals and other industries if they prefer the Haropa Port for business?
One of the key assets of Haropa Port is to be able to provide turnkey greenfield or brownfield lands for new investments. We are one of the only ports in Europe to provide large plots of more than 40 ha for the settlement of future plants. Moreover, when you choose to settle on the Haropa Port network (we control more than 16 000 ha on the Seine River Valley), you will join an existing industrial cluster with all the facilities needed (electric, water grids, and pipelines) and you will also be able to develop synergies, circular economies with the neighboring firms.
What will it take to build a world-class chemical hub in India?
The most important characteristic for a hub is to be connected to other chemical valleys around the world. The strong maritime relation between India and France will enhance the position of the Indian chemical hub to import the products it needs and to export its production. The common ambition is to strengthen the supply chain for all the chemical actors in India and France.