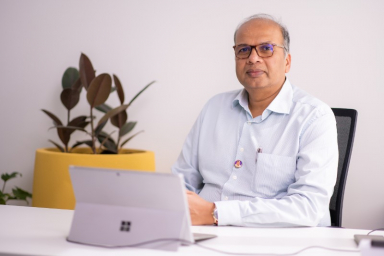 How would you rate the company's financial performance in FY 2022-23? What's the forecast for FY 2023-24?
Our performance for FY22-23 was as per our projections and aspirations. In FY23, we celebrated crossing the milestone of Rs. 3,000 crore topline with 23% EBITDA. Our FY23 topline is 65% more than the previous year. The continuous growth and success of our business is cemented on our robust, sustainable business model, powered by the innovation and quality of our products, and commitment of our team.
Performance of the company in different segments - Aluminum, carbon black, construction chemicals, specialty chemicals, wood preservatives, coal chemicals, tyres, mechanical rubber goods, and masterbatches in FY 2022-23. What is the future roadmap?
In FY23, we became the major exporter of solid CT Pitch globally. 40% of the Aluminum segment in India consumes our products, we integrate operations, provide uninterrupted supplies, ensure superior quality, and adhere to best industry practices for manufacturing, supply chain management, and sustainability. Our commitment to quality, stringent safety protocols and standards, ethical governance principles, and industry certified processes sets us apart in the industry.
With the projected expansion of the aluminum business as well as reduced CT Pitch availability from China, we have an opportunity for organic growth. We are installing a 500 KTPA Coal Tar distillation plant at our second site in India and with state-of-the-art specialty chemicals complex of import substitution products to cater several industrial applications other than Aluminum industry.
Capex investment in FY 2022-23 and projects/facilities where the company invested? Capex plans for the company in FY 2023-24 and how will these investments help the company in the long term?
In FY23, we invested strategically in various projects, with Capex exceeding Rs. 525 crores, to expand our current production capacities and development of a township for our employees and their families.
For the upcoming FY24, we plan to invest more than Rs. 1,200 crores in projects like – setting up a new carbon derivative complex in Jharsuguda, Odisha; to increase the capacity of our carbon black, captive power plant at Vijayanagar; construct another new township and many more. These investments will help double our topline by FY26.
By when Rs. 550 crore projects for adding 1,15,000 - 2,15,000 tonne capacity in Karnataka will get completed? How will this project enhance the overall capacity, market share, and overall revenue of the company?
We're making good progress on our project in Karnataka, and it is projected to be completed by the first half of 2024. This will almost double our Carbon Black capacity, giving us a major share of the domestic market, and further enabling us to compete in the international market. We anticipate this project will generate revenue of approximately Rs. 900 - 1,000 crore annually. This plant will produce niche grades for high performance automobile tyres.
The company has collaborated with edible oil refiner Sri Anagha Refineries to construct molten pitch storage tanks with capacity of 10,000 metric tons at Mangalore port. Expected completion date and long-term outcomes in terms of scaling up coal tar pitch production?
Currently, we are focusing on creating India's first 'liquid CT Pitch port' for exports. The facility will be ready before the end of Q1 FY24. This port will enable us to expand our reach in international markets for our products. By leveraging the utilization of this facility, we anticipate an estimated 3 lakh MT of exports in the next five years and adding over Rs. 2,000 crores to the top line.
What are the key R&D projects under progress by the company? How will these innovations make an impact on the company's revenues?
We are innovating new grades of Coal Tar Pitch and of Carbon Black. We are continuously working to produce high quality Carbon derivative products, such as Naphthalene, Indene, Anthracene, Phenols and Cresols. These products will substitute imports in India and have the potential to significantly increase our current business revenue.
Level of automation and digitalization projects conducted in FY 2022-23? How do you plan to move ahead on this front both on brownfield and greenfield projects?
Currently, our plants are automated using DCS systems, and we have complemented this with digital solutions for greater process efficiency. We are now driving an overall organizational digitization program, in collaboration with one of the top consultants, which will enhance our existing operations and future projects and further upgrade us to Industry 4.0 level within the next 2-3 years.
CSR projects undertaken in FY 2022-23 and plans for FY 2023-24?
In FY23, we strengthened our Corporate Social Responsibility (CSR) projects in sectors like healthcare, education, sports, and infrastructure development. These initiatives have positively impacted over 3 lakh people. We plan to continue our efforts of strengthening educational infrastructure by providing basic educational amenities, drinking water facilities and digital classrooms. We are further prioritizing preventive healthcare through the Mobile Health Clinic initiative, which has impacted 32,000 individuals in 8 villages. In the coming years, we intend to extend our support to women's Self-Help Groups in the villages through livelihood interventions within the vicinity.
How is the company striking a balance between environmentally friendly policies and business growth? Key sustainability initiatives of the company across various segments?
We constantly integrate sustainability into our design & operations and the concept of circularity has been designed to ensure minimum wastage and emissions across the manufacturing facility.
Our second sustainability report was published in December of 2022 based on the Global Reporting Initiative (GRI) Standard. We have planted 47,500 trees to help minimize air pollution. We are continuously optimizing our operations and usage of non-renewable utilities like water and power which is prioritized in our consumption trends of utilities per metric ton on a year-on-year basis.
Our company is committed to sustainable business growth, providing a secure source of captive raw materials and long-term contracts. Additionally, our manufacturing methods reduce emissions by using cleaner fuels, low Sulphur feedstocks, and zero discharge.
The residue gases produced during our process is used to generate steam and electricity in our captive power plant. This helps us to reduce our carbon footprint significantly, to the extent that our product Carbon Black has nearly 20% less footprint compared to our domestic peer industries. Also, our value-added product which is a synthetic graphite for Anode material has nearly 77% less CO2 footprint compared to peers.
Our CSR and CER goals are aligned with the United Nations' SDGs for Good Health & Wellbeing, and economic growth, zero hunger, quality education, sustainable cities and communities, clean water and sanitation, and gender equality. We have contributed to supporting the elderly, Covid-19 care, and especially abled people, as well as hospitals. Over 4 lakh lives have been benefited in the last 4 years. Quality education is another goal we are actively supporting; we have upgraded teaching & learning facilities in 4 Direct Impact Zone villages and developed model libraries which have helped more than five thousand students.
We are also working to support animal welfare trusts and restore ecological balance through afforestation and wildlife conservation. We have contributed to women empowerment, sports development, village street lighting, livelihood programs, relief funds, solid waste management programs, and many other initiatives. Our efforts towards sustainability are well recognized by many rating agencies. We are a Responsible Care logo holder and EcoVadis -Silver Rated company.
We upgraded our ISO certifications of – 9001 for QMS, 14001 for EMS, 45001 for OH&SMS, 50001 for Energy Management System. Also, we are certified by IATF 16949:2016 – Automotive QMS, ISO/IEC 17025:2017, ISO 27001:2013 - Information Security Management System, ISO 28000: 2022 – Supply Chain Security Management which highlights our approach to data credibility and integrity. We are now preparing for SA 8000 certification, which is an international certification standard that encourages organizations to develop, maintain and apply socially acceptable practices in the workplace.
When is Epsilon Carbon planning to achieve Net Carbon Zero and what are the different milestones set up by the company?
We are continuously working through various initiatives to reduce our environmental load and carbon footprint. These efforts are gauged, and monitored by doing life cycle assessment through recognized third-party experts. Currently, we are in discussion with one of the top consultants to design a long term ESG roadmap for the organization and charter a time bound milestone plan.