Industry seeks Govt's support to make agrochemical sector a powerhouse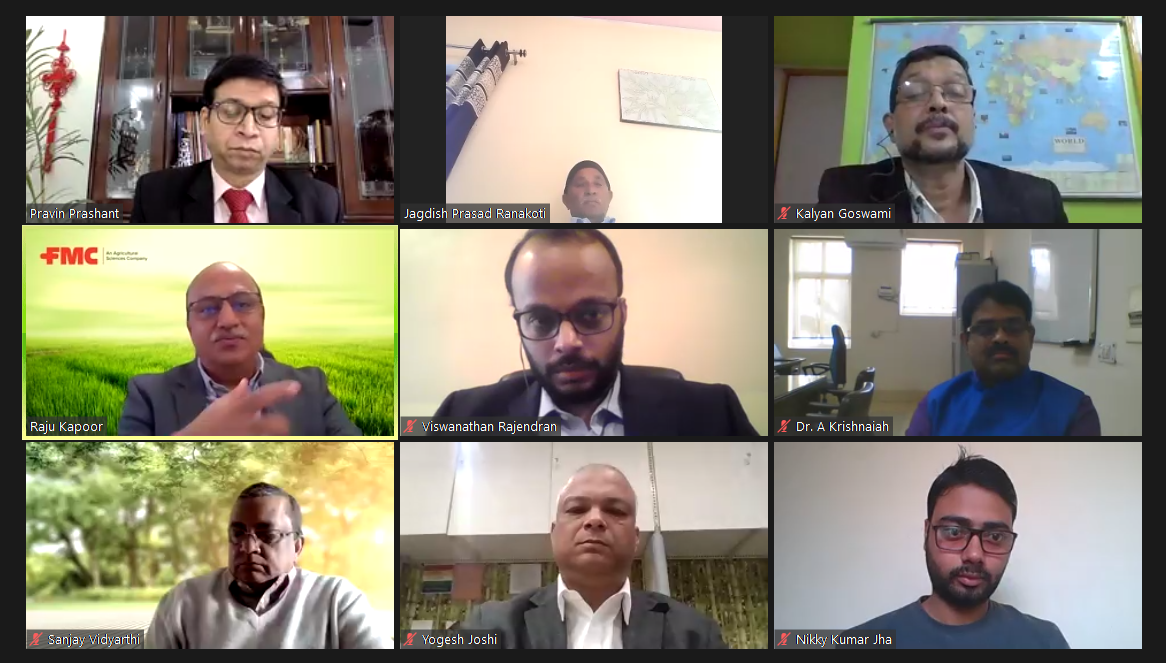 Streamlining of regulatory policies, incentives for manufacturing, R&D investments, backward integration and awareness among farmers remain the decisive ingredients to propel the growth of the Indian agrochemical industry says industry experts.
This came to the fore when prominent industry captains from the agrochemical industry deliberated at an E-Conference organized by Indian Chemical News (ICN) on 'Making India a Global Agrochemical Manufacturing Hub'.
Outlining the government initiatives, Vishal Choudhary, Dy. Industrial Advisor, Department of Chemical & Petrochemicals, Ministry of Chemicals & Fertilizers says, "We are aware of the issues related to the industry and have prepared the advisory points for implementation. The advisory forums and industrial cell set up by our department meet on regular basis to address various concerns. We are working towards promoting backward integration so that the entire value chain is covered and import dependency on raw materials is reduced."
Anil Kakkar, Vice President, Sumitomo Chemicals feels that lack of enough measures has stifled the growth of the industry. He mentions, "While the government is aiming for the US $5 trillion economy, it can't be achieved without the role of the manufacturing sector that requires land, money and greenfield projects. While agrochemical industry is exporting big time, we are importing too. There is a surge in imports in the last 5 years while the true manufacturing capacities in India remain underutilized. Indian government must look at it."
Sharing important trends in the agrochemical space, Viswanathan Rajendran, Partner, Kearney India says, "India has a cost advantage and ample talent resources which are the key differentiators. Compared to China, global trust has now shifted more to India. Hence, companies can capitalize on the opportunities as there is a lot of demand across chemical manufacturing. At the same time, India must move from regulatory arbitrage to promoting research-based quality products. For the growth, the industry requires infrastructure, logistics and collaboration model."
Raju Kapoor, Director - Corporate Affairs, FMC Corporation believes that India is at the threshold of the great opportunity which needs to be grabbed. "It depends on how fast government acts to actually grab it," he says while adding, "We need a stable policy environment and a culture of safety, sustainability and responsibility which are critical elements. Policies and regulations have to be science based and progressive. The attitude of putting import restrictions should stop as we must remember that it was liberalization during the 1990s that helped us to grow."

Emphasizing the academia-industry collaboration, A. Krishnaiah, Senior Principal Scientist, CSIR - India Institute of Chemical Technology (IICT) says, "IICT has played a key role in developing process technologies. Based on the request from the industry, we have produced crop protection chemicals from time to time including the 12 products developed recently. These are based on their market potential and expiry of many chemical patents by 2023. While we have successfully developed the bench-scale technologies, we are now looking at industry's support to take these agrochemicals to lab scale.

Kalyan Goswami, Director General, Agro Chem Federation of India (ACFI) calls for bigger participation of the private sector in creating research hubs. He opines, "Government authorities are coming up with the policy guidelines every now and then instead, it should frame steady and realistic policies to encourage the private industry to invest in the creation of research hubs. Apart from that, there is a need to pay attention to the issue of Intellectual Property (IP) and the lack of data protection is an issue which demotivates the industry."
Sharing his unique perspective, Sanjay Vidyarthi, MD & CEO, Agritech Enablers, pointed out the wrong marketing practices that indirectly harm the growth of the industry. He explains, "Legitimately there is a huge opportunity but every distributor goes to farmers and oversells, compelling them to overuse that causes horrendous damage and brings disrepute. Therefore, it is important to teach farmers the right way of using the chemicals besides technologies such as drip irrigation and fertigation. They must know how to measure EC and PH before using the chemical solutions on crops."
Highlighting the need for support to startups like his, Nikky Kumar Jha, Co-Founder, SaptKrishi Scientific opined, "It takes 5-6 years to register a new formulation whereas a new molecule might even take 20 years. It is astonishing that such policies are continuing while we require quick approvals and financial support from the government. Startups like us intend to use Artificial Intelligence (AI) and Machine Learning (ML) to come up with better molecules and need databases on various agro-climates and other parameters. We need support to take the product to the bench and lab scale, followed by pilot production."
Sharing his on the ground experiences, Jagdish Prasad Ranakoti, Ex - Pradhan, Village - Ganga Bhogpur, Uttarakhand talked about how the alternative agriculture practices earned him good revenue and awards from government authorities. He says, "We used to cultivate crops such as wheat and maize and soya bean in our 3.5-hectare land but when there was damage by the wild animals from nearby Raja Ji National Park and Jim Corbett Park, we changed our approach. We started cultivating vegetables and flowers with help of natural bio-fertilizers such as vermi compost and neem oil for protection from insects. He also urged the local Government and concerned authorities to look into the problems caused by wild animals and come up with concrete strategy for devising an appropriate solution suiting the farmers as well as the wild life sanctity."
The virtual event witnessed good participation of delegates and was moderated by Pravin Prashant, Editor, Indian Chemical News. Also present on the occasion was Yogesh Joshi, Head, Content & Strategy, Indian Chemical News who talked about ICN's plan for 2021.
Share and Enjoy !